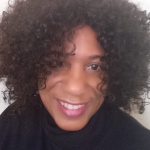 Character: Woman One
Facebook Instagram
Vickie Carson-Clemons
has a great love for the theater and enjoys all aspects of it. She is employed by Linon Home Décor in the Accounting Department. She is a graduate of Franklin County High School, and furthered her education at Queensboro Community College. Vickie attended the School Of One Voice where she discovered another gift "song writing" and has written and performed several songs at the end of semester recitals. She also attended Lazare Dance/Acting classes. Vickie comes with much experience in the theater with Don Durant and others. Some of the productions that she has appeared in are: "Coming Home To Papa", "Caught Up", "Another One Gone" and "Triumphant ", She was last in "Sistas On Fire" at The Duke Theater NYC and "Upon This Night". Vickie truly loves performing and the challenge of becoming her character and is always supportive of her fellow actors and actresses. When asked, "Where do you find the time", you will hear her say, when doing something that you truly "Love" and it is your "Passion" there is always time. Vickie is married to her best friend Robert. As a Christian, Vickie attributes all that she has accomplished to God, believing that all things are possible through him.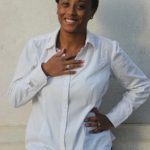 Character: Woman Two
Facebook Instagram
Michele Quintero
is an Afro – Latina born and raised in the South Bronx, NYC and currently resides in West New York, NJ. She studied Theatre and Performance at Hostos Community College/CUNY receiving an A.A. and Purchase College/ SUNY where she received her B.A. She is honored to join the cast and crew of "Sistas on Fire" (2019). She thanks her family, friends, The Hostos Repertory Company and Leadership Academy, The Theater and Performance program at Purchase College and the entire cast and crew of "Sistas on Fire" for all of their hard work, dedication, inspiration and fire.
Theater Credits include:
Metamorphosis, Myra, Hostos Repertory Theater, Bronx, NY (2011)
No Child, Xiomara, Hostos Repertory Theater, Bronx, NY (2010)
Breath Boom, Prix (Lead), The PepsiCo Theater, NY (2012)
A Children's Tragedy, Hanschen, The Underground Theater, NY (2013)
Anon(ymous), Naja, The PepsiCo Theatre, NY (2013)
, Lady in Red, The Underground Theater, NY (2014)
The Donut Play (a love story in 24 conversations), Dora, The Castillo, Theatre, NYC (2014)
Still on the Corner, Pam Kansas, The Castillo Theatre, NYC (2014)
R&J&Z, Rosaline, The New Ohio Theater, NYC (2015)
Ain't Never Been Easy, Bella, The Castillo Theater, NYC (2016)
The Wizard of Oz, The Tin Man, Stage Left Productions, NJ (2017)
Afterburn, Mathis, NYC Fringe Festival, NYC (2018)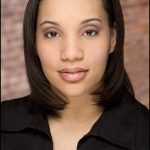 Character: Woman Three
Facebook Instagram
Shannell Sapp
Although trained in the Theater, Shanell has proven her versatility and range as an actor on film, television and the stage. In her first major play, she landed the lead role in the off-off Broadway production of The Engagement. A story about love and marriage. She played a rapper in the student film Unrapped and a drug dealer in the short film What a Difference by Nikki Bates. She has also done stand up comedy at COMIX and was a featured inmate on the Netflix hit series Orange is the New Black.
She is thrilled to be a part of this cast of Sistas on Fire!